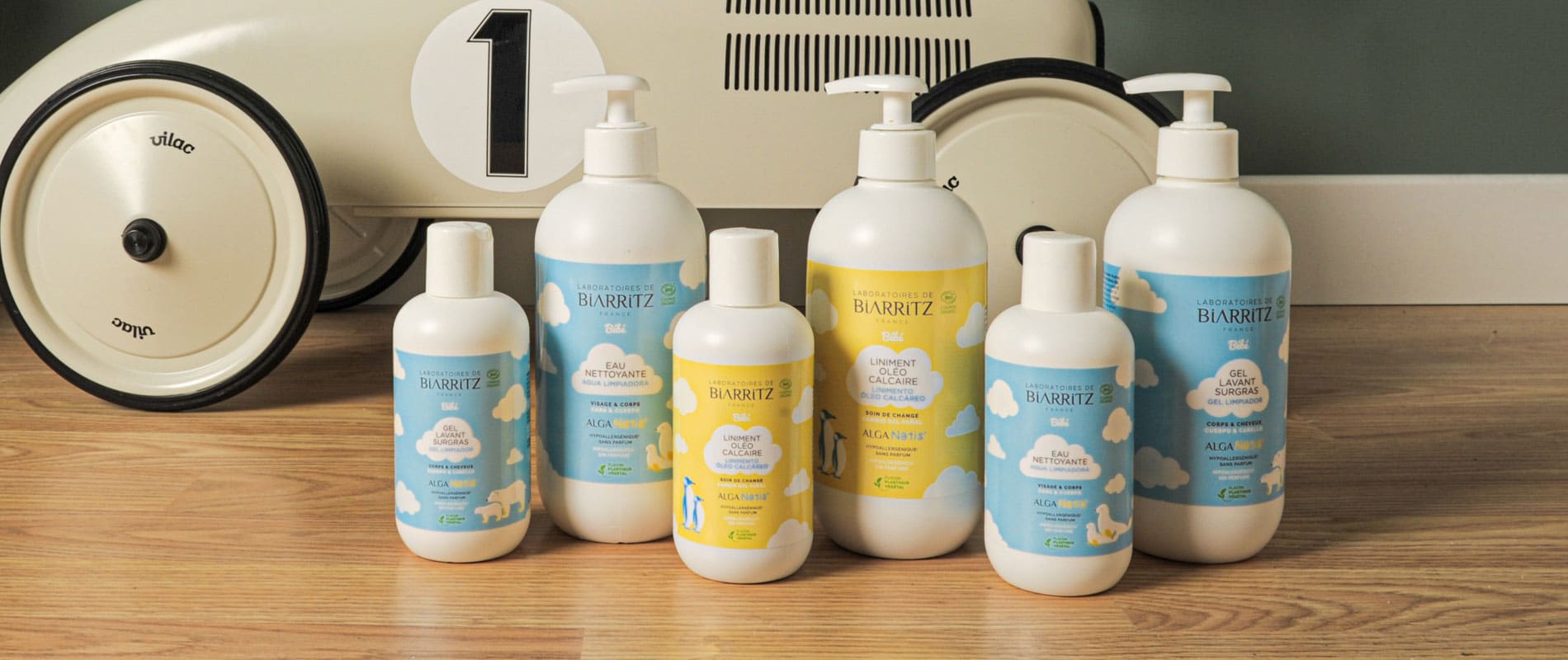 Immature, an imperfect barrier function, easily irritated - infant skin is sensitive and reactive. From birth, it requires highly gentle and specific care.

To give babies all the attention they need, Laboratoires de Biarritz developed a new range of very safe certified organic skincare products perfectly tailored to their fragile skin.

ALGA NATIS® a Skincare Ritual Made For Your Baby
ALGA NATIS® encompasses four certified organic skincare products, all formulated with Alga-Paisium, an exclusive seaweed-derived ingredient with soothing properties:
a gentle Oleo-Calcareous Liniment for diaper changing,
a face & body cleansing water,
an ultra-rich cleansing gel for the body and scalp,
and a face & body moisturizing cream with a massage-ready texture.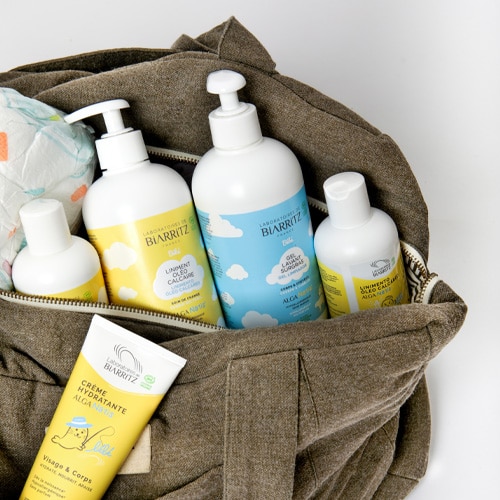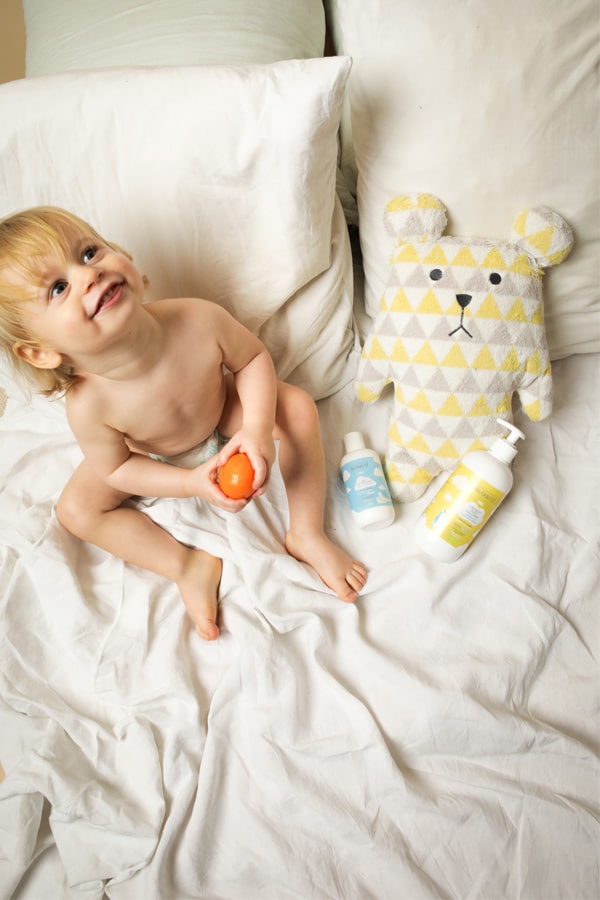 ALGA NATIS ® Ultra-Rich Cleansing Gel gently cleanses the skin and scalp of your baby: it gets rid of sweat, sebum and cradle cap without disrupting the fragile skin barrier. Made with Alga-Paisium, Aloe Vera, organic coconut oil, and organic glycerin, it stops the skin from drying out. It does not sting the eyes and leaves the skin feeling soft after use. You will find our Ultra-Rich Cleansing Gel in 500 ml bottles.
ALGA NATIS Gentle Oleo-Calcareous Liniment cleanses the skin of the infant, nourishes it and creates an insulating protective layer against external irritants (urine, stool, rubbing of the diaper). Made of Alga-Paisium, organic olive oil, and beeswax, its high-tolerance formula prevents redness from appearing in the diaper area. As such, it is recommended for use in case of diaper rash. The alkaline pH of the liniment neutralizes the acidity of urine to restore a pH close to that of the skin. You can find it in 200 & 500 ml bottles. No rinsing required.
Cleansing Water gets rid of impurities on the skin of your baby without disrupting its fragile skin. Its high tolerance formula, made with Alga-Paisium, Aloe Vera and organic glycerin, deeply cleanses and moisturizes infant skin. You can find it in 200 & 500 ml bottles. No rinsing required.
Alga Natis Moisturizing Cream, made with Alga-Paisium, organic sunflower oil, organic coconut oil, and organic glycerin provides relief, a soft touch, and comfort to the babies' delicate skin. Its high tolerance formula moisturizes, nourishes and strengthens the skin barrier, protects against dehydration and minor irritations. Its light and flowing texture is great for massages that comfort and strengthen the bond between the parent and the infant. You will find it in 100 ml tubes.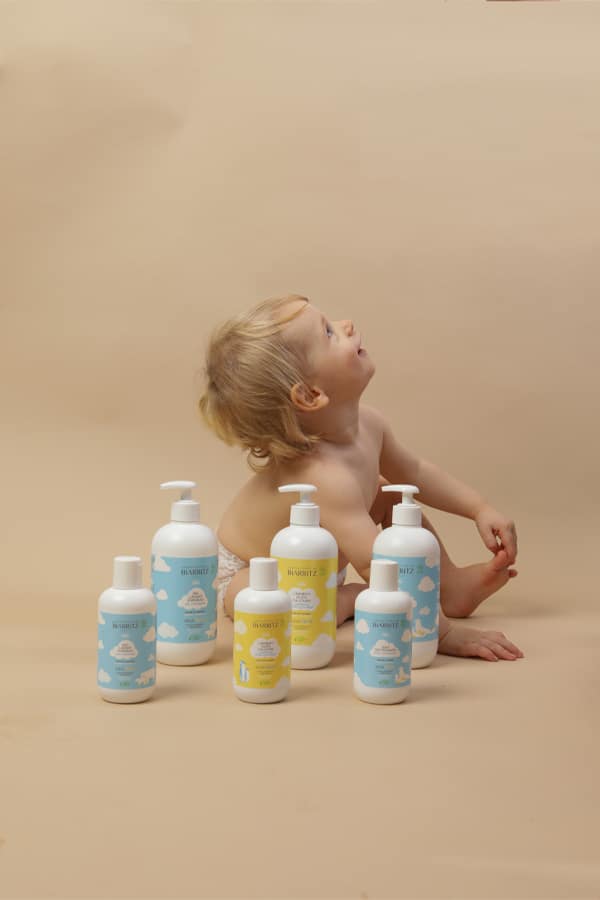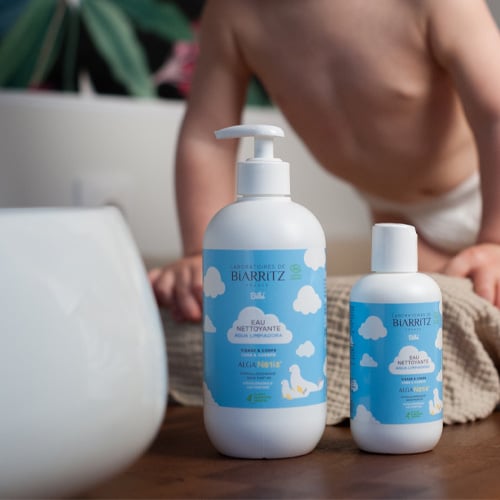 Our Extra Step for the Environment
Laboratoires de Biarritz put everything into making ALGA NATIS ® skincare products as safe as possible for the skin of the infant: 99.5% to 100% natural-origin ingredients, certified organic and clean formulas, hypoallergenic, without added fragrances and minimalistic (only the strict necessary for optimal skin tolerance: less than 10 ingredients in most formulas).
Being an environmentally conscious brand is one of the fundamentals of Laboratoires de Biarritz. In this way, to reduce our carbon footprint and preserve the planet, ALGA NATIS ® tubes and bottles are made out of plant-based plastic.
So now you are all ready to use our Organic skincare, and make your baby glad you did!
---