Beauty
STRETCH MARKS, How to Prevent or Correct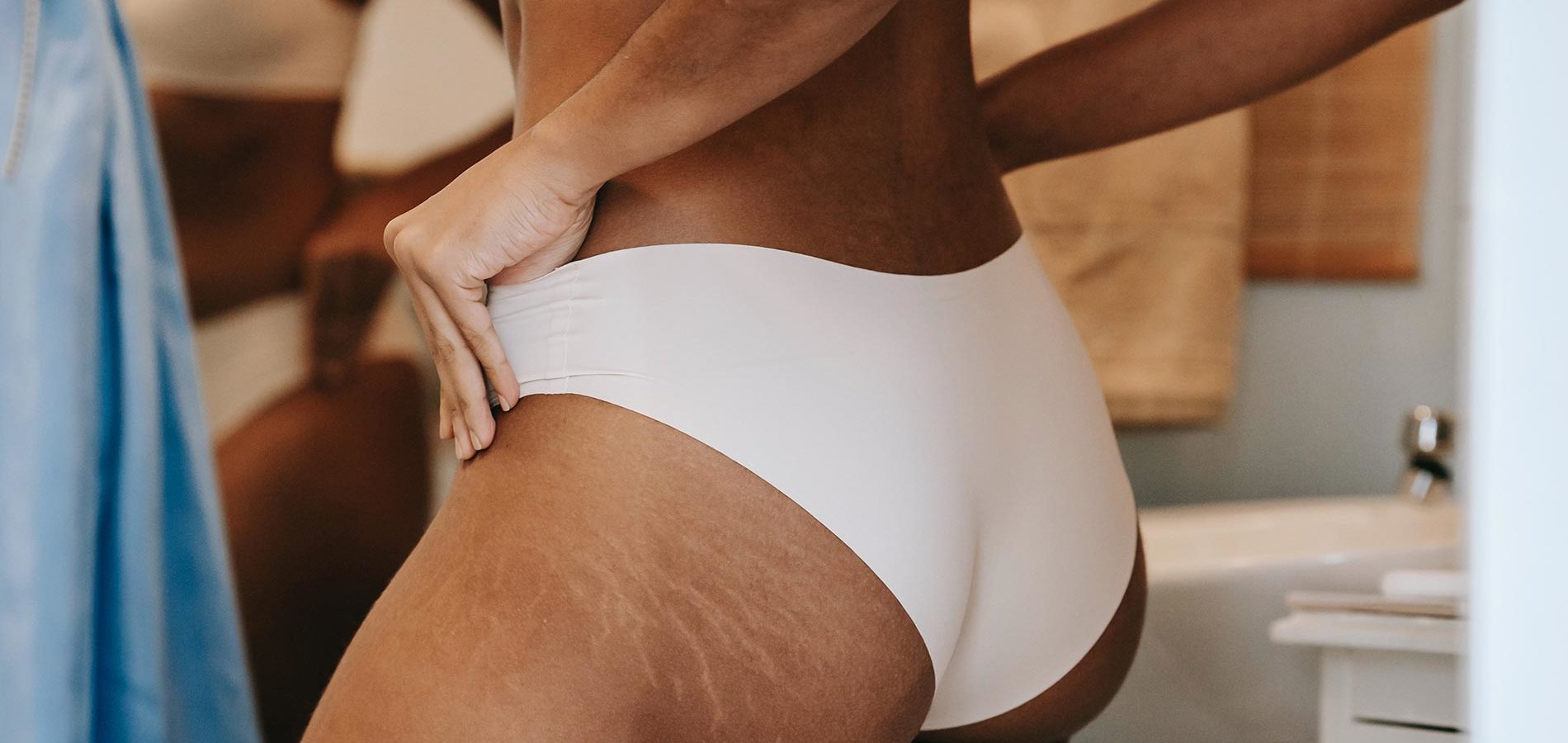 Growth spurt, weight gain, pregnancy, and hormonal changes are some of the most common causes of stretch marks appearing, independent of your skin type or color, age, or gender.
It does not matter when in your life they occur, stretch marks are never fun and can negatively affect your body image, causing a cascade of negative emotions. However, stretch marks are not inevitable, and there are several ways to prevent them from appearing or make them go away if you already have them. Let us explain.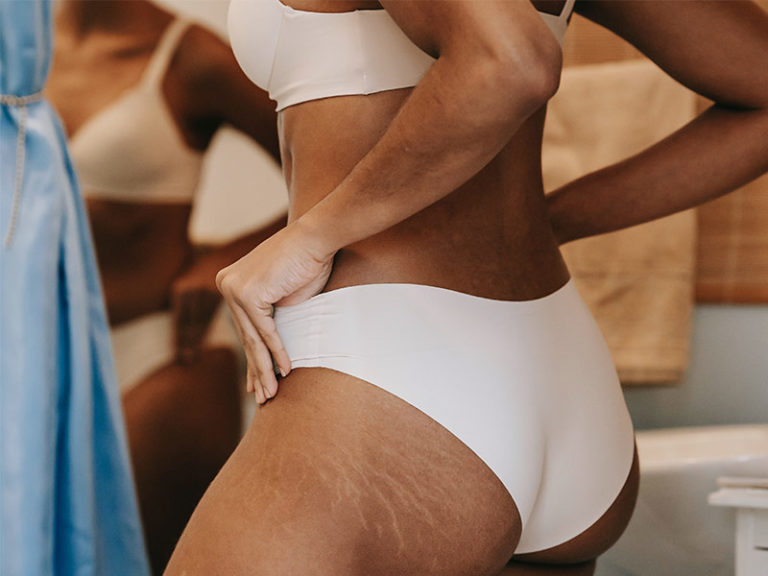 Stretch marks: what's that?
Mainly occurring on the stomach, hips, thighs, butt, or breasts, stretch marks are lesions in the dermis that make irregularities appear on the surface of the skin. In France, 80 to 90% of women are affected, as well as 40% of men. They are the consequence of overly fast stretching of the skin and/or certain hormonal fluctuations that cause a decrease in fibroblast activity. These dermal cells synthesize the fibers that support the skin: elastin and collagen. Parallel to this diminution, elastase, an enzyme that degrades elastic fibers, sees increased activity. In this way, total elastin and collagen fibers are less numerous, the quality of supporting tissue deteriorates, and the architecture of the dermis weakens, becoming incapable of adapting to and resisting intense tension. The tissue tears and stretch marks appear.
Prevention and correction, the care required
A multitude of solutions exist to prevent the appearance of stretch marks or to correct them if they are already present. Many are costly and hard to access, like fractional CO2 lasering, LED, radiofrequencies, Plaquette-Rich Plasma, micro-needling, and carboxytherapy… Luckily, there is an easier solution: anti-Stretch Mark Cream
The best way to avoid stretch marks is first to understand the overall process and act before the first signs appear by applying a specialized product. At Laboratoires de Biarritz, we were inspired by the regenerative capacity of algae to develop a Stretch Mark Cream with dual efficacy: prevention and correction, that nourishes, softens, and strengthens your skin.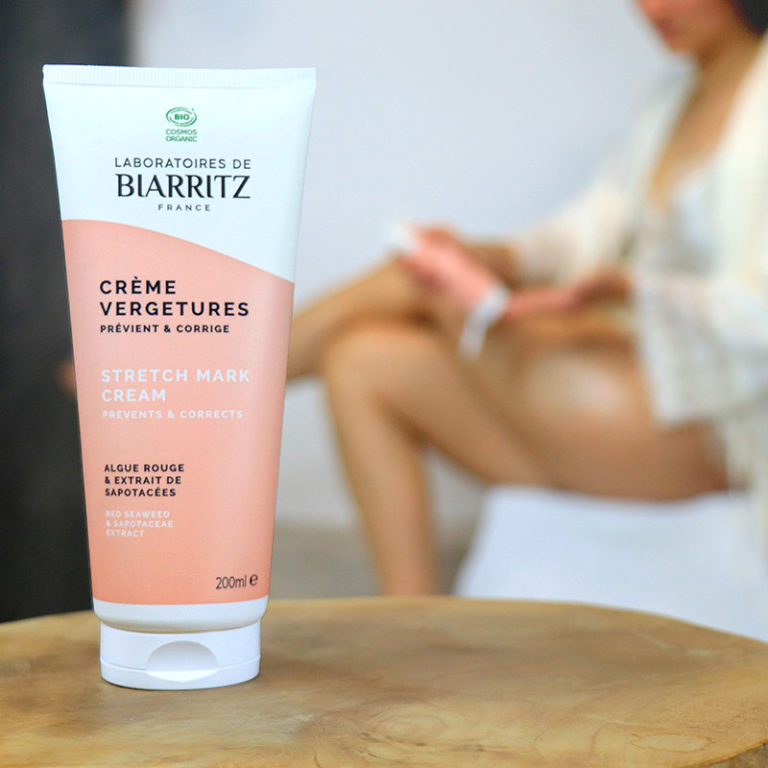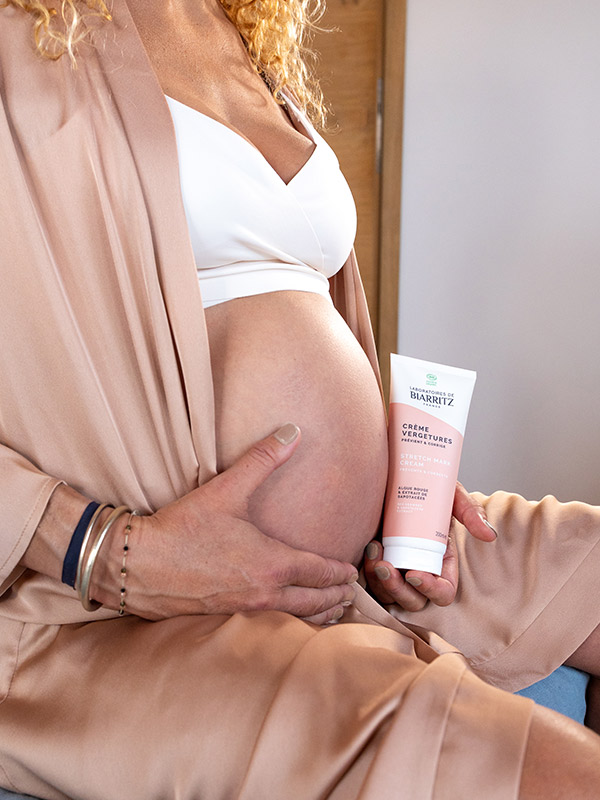 Stretch mark-specific skincare
The Stretch Mark Cream, prevention and protection, from Laboratoires de Biarritz, combines two natural ingredients with scientifically proven efficacy. Thanks to this combination, there is a maximum effect on parameters linked to stretch marks, so that it both prevents their appearance by strengthening the dermis, and, if necessary, enhances regression by activating tissue repair.
By combining Alga Sendatu® (red seaweed origin) and a Sapotaceae extract (Sapotaceae wood origin) our Stretch Mark Cream strengthens the dermis and activates repair mechanisms. The Organic alpha-bisabolol (Candeia wood origin) relieves, whereas Organic Aloe vera and Organic glycerin (rapeseed origin) moisturize the skin at depth. Finally, Organic shea butter and Organic coconut oil nourish the dermis for several hours. And all that is 100% natural in origin!
Thanks to its creamy, easy-to-apply texture, even over large areas, you can nourish, soften, and strengthen your skin before and after pregnancy, growth spurts, or hormonal changes. If you have stretch marks, our cream enhances regression (85.7% of women* found that their white stretch marks, although reputed to be hard to correct, were less visible). A little secret? It is breastfeeding-compatible! Now you are ready to face off against stretch marks!
* trial under dermatological supervision carried out on 30 female subjects ages 18 to 45 with recently appeared stretch marks
---