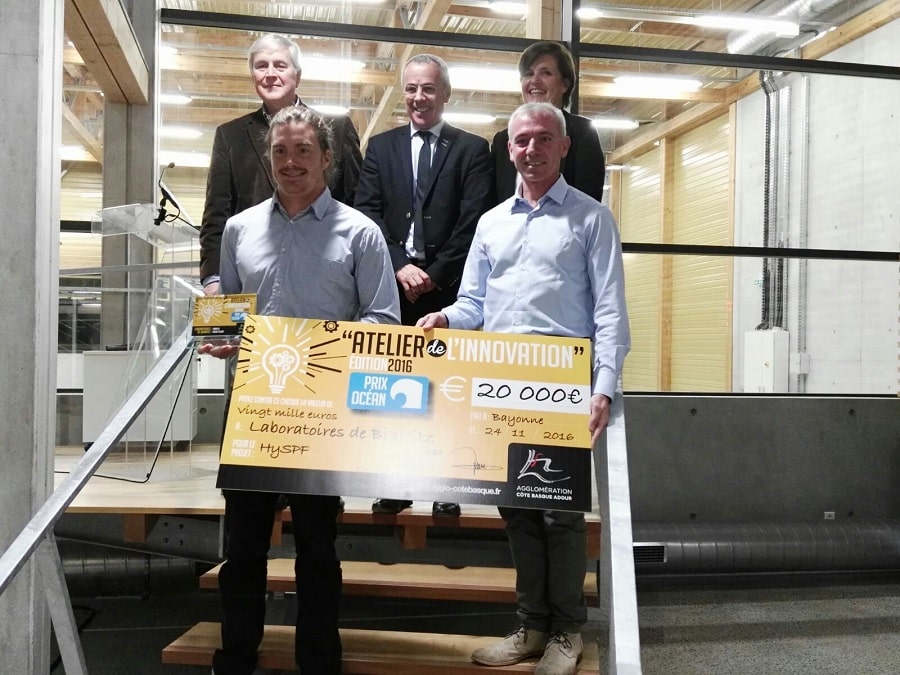 Started in 2013, the «Ateliers de l'Innovation» (or Innovation Workshop) are the Basque Coast's way to participate in the dynamics of its economic development, supporting recently founded businesses for innovative projects. In partnership with the ESTIA Engineering School, the jury deliberates over the different applications. At stake : up to 25 000 euros in grant money.
This year, for the first time, a special «Ocean» grant was on offer, for projects related to the Marine Economy. And (drum roll please) we are the happy beneficiaries! The mayor of Biarritz, Mr Michel Veunac presented us the grant in a ceremony attended by the VIPs of the greater metropolitan area. The other winners were the company Hors Limites 64 for their project Wikicampers and the company HUPI for their project «Analysis of feeling by Machine Learning».
So what was our proposal? Our project is aiming to revolutionize the world of solar protection: a UV filter made entirely from biological material. At the time of writing, only two kinds of UV filters exist for sunscreens and cosmetics in general: chemical and mineral. In the case of organic cosmetics, like ours, only mineral screens are available.
Why not be inspired by seaweed? It has the most effective UV filtering molecules in the natural world: Mycosporine-like Amino Acids. By the way, they play an important part in our exclusive Alga-Gorria®, found in our ALGA MARIS ® sunscreens and METEO LOGIC ® range. Attaching them to other materials at a molecular level confers greater protective capacity: the concept has been proven; now we need to develop the technology to reach production scale. To do so, we are reaching out to the best international experts in the field.
At the end of the road, we will obtain a product that is completely of biological origin, using only what is already present in the ocean (corals use it!). A long, but very interesting road it will be, and we will share every step with you.
We would to extend our thanks to the Basque Coast Metropolitan Area and the ESTIA for their attention and confidence in this project. We will meet their expectations.
Here is a video (in French) presented during the ceremony:
---